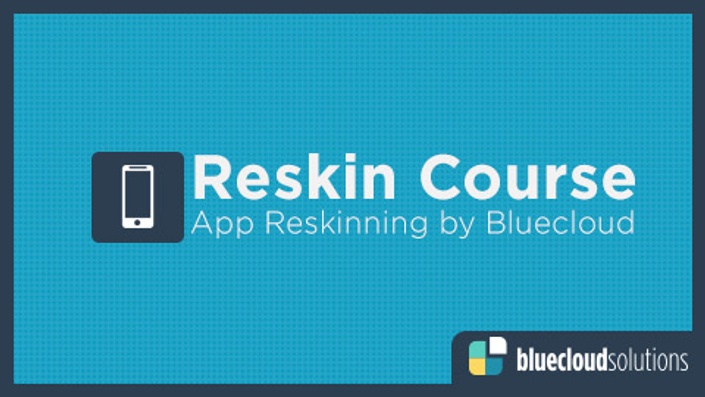 Bluecloud Reskin Course - Introduction To App Reskinning
Learn Everything About Reskinning Apps In One Weekend
Ten action-packed, money-saving videos that lay out my simple, step-by-step system, including: choosing source codes, hiring developers, production, design, growing your business, and everything in between.
This 10 part video course includes:
Lesson 1: Course Introduction: What exactly is App Skinning?
Lesson 2: Fundamentals of the App Reskinning Business
Lesson 3: IOS vs. Other Platforms (Brace yourself for a surprise)
Lesson 4: Real-life Case Studies of Lucrative App Reskinning Businesses
Lesson 5: How to Choose a Money-Making Source Code
Lesson 6: Finding a Reliable Developer
Lesson 7: How to Create Developer Accounts
Lesson 8: What to Skin, And What NOT To Skin
Lesson 9: Facts-On-The-Ground Business Fundamentals: Build It, Grow It
Lesson 10: Step-By-Step Walk Through, From Start To Finish
WE BUILT THIS COURSE TO TEACH ANYONE HOW TO GET STARTED
I'm not going to waste your time with drawn out sales pitches.
Here's what I've got:
10 in-depth videos about everything related to app reskinning
PDFs, exercises and questions that will help guide you
Business focused education – understand HOW this all works as well as the step-by-step operations
Case studies and proof of the model
Some of the specifics within the course:
The real way to look at reskinning…that made a $300,000+ difference
2012 vs 2015 – what EXACTLY changed…and what dominates right now
How to pick the perfect source code every time
My step by step process on hiring developers (this is NOT what you expect)
The $7,000+ profit "mistake" I fell into…and repeated over and over (and how you can too)
Why the Android platform could completely change your life
How to setup dozens of developer accounts the right way on every app store
A step-by-step walkthrough of an entire reskin process, start to finish
Much much more (Sorry if it's cliche, but it's true)
WHAT YOU CAN EXPECT
After you purchased, you'll login to your account and be immediately able to watch all the videos and download the PDFs.
Each video ranges from 10 minutes up to 40 minutes – go through it quickly or take your time.
Either way, you'll get a HUGE education in a very short amount of time.
You'll also get answers to some of the most relevant app reskinning questions about competition and getting downloads for your apps.
I've searched high and low for educational materials. It turns out, there's a lot out there, mostly written by people that have had a handful of winners…but limited repeated success.
You have two options – search for small pieces of information and "piece meal" it all together from random sources…
Or, you can get 100% of what you need. Right at this moment.It's quick, easy, and even kind of fun.
Why waste hours on Google, with a fraction of the results? You're a click away from a complete solution.
BIG DISCOUNT (WHILE IT LASTS)
Originally I was going to to sell this for $200 because I wanted to give serious reskinners a serious edge.
But then I realized that the more I can empower the Bluecloud community, the better.
So it's fire sale time.
This course is available today for $27.
No catch. No BS. This stuff has worked for a lot of people (as you saw) and can work for you too.
Good things have always come back to me when I offer big value at a terrific price and this is no exception. That's how I built my business and how I always will.
But enough talk. Let's do this.
TO SUM UP….
You get:
A full course about building your app business the same way I did
A turnkey, step-by-step education on being successful with source code and reskinning
Easy to understand and compact enough to digest in a weekend
Easy to follow for beginners, plus really helpful for veterans
The best possible resource I could write to put you in a position to make thousands of profitable apps
An insider who has "been around the block" and knows how to profit
Help with decisions and answers to your questions
Invest a little time now and save TONS of time later
WHAT DO YOU HAVE TO LOSE?
Consider the potential upside. Even if you're worried this is somehow a waste of money…think of the risk/benefit analysis here. This is a no-brainer.
Your Instructor
Hey! I'm Carter. About 3 years ago I started in the app business...next thing you know I have over 19 Million app downloads and produced over 1,500 apps on multiple platforms. Yowza!
This website (Bluecloud Solutions) has reached over 2 million readers since it's inception and continues to grow each month with hundreds of thousands of new app entrepreneurs. We focus on creating out of the box solutions that make sense - our goal is to help as many people as possible.
I'm really proud of what my team and I have been able to do thus far and will continue to serve every one of you as best I can. Enjoy!
Frequently Asked Questions
What's Included?
10 full modules that walk you through the entire process of reskinning, start to finish. Each lesson comes with a full length and in-depth video for each topic, along with the PDFs of the entire presentation for download (so you can go at your own speed later on). We'll be adding more content to this as it comes out and updating it as the app stores evolve. Don't worry – you'll get all of those updates free of charge.
Why $27?
Because there more the Bluecloud community can be educated, the more likely the are to be successful. It's also not free because I don't want "freeloaders" just glazing over the information looking for all the juicy secrets. The people who are ready to learn about reskinning should get first dibs…and $27 is a tiny price to pay for a spot in line.
Do you have a guarantee?
Of course! You should know this has a 100% risk free, 30 day money back guarantee like any other training on the Bluecloud site. If you don't think this is worth the $27 you spend on it, just let us know for a no questions asked refund.
When do I get access to the course?
immediately. You'll receive a login to our "Bluecloud Vault" and will have immediate access to all the videos, PDFs and resources. This is Lifetime Access – you'll get all updates for free!