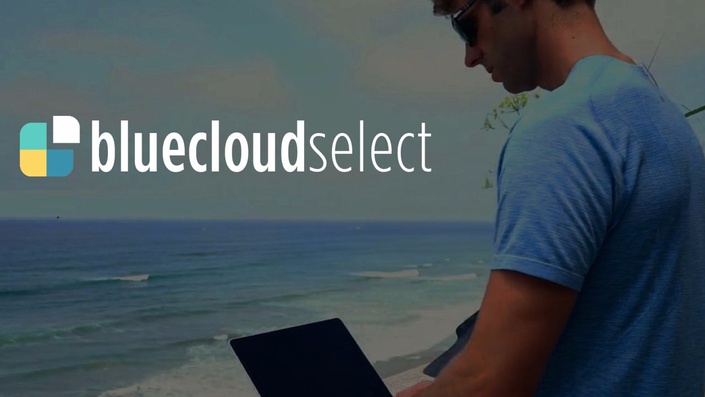 Bluecloud Select
GET IMMEDIATE ACCESS TO MY BEST APP TRAINING, SOURCE CODES, CONSULTING VIDEOS AND COURSES I USED TO GET OVER 18,000,000 DOWNLOADS (AND 1,500 APPS)
This took me over 2.5 YEARS to put together!
App Training, Accelerator Courses, A Mastermind Community, Exclusive Source Codes & Personalized App Consulting & Tons More
Warning: If you decide to take me up on this offer, it's going to cost you as much as a nice dinner.

If that's too much of an investment to make, this isn't for you.

If, however, you're ready to actually make something happen with your app business and your life, keep reading.

The Best Collection Of App Education-Weapons On The Internet

You are going to get access to virtually everything I've produced in the last 2.5 years.

EVERYTHING.

That includes all my consulting Q&A videos, my training "accelerator" courses, the PDF cheat sheets and checklists. And more. And more after that.

Before I dive into everything you'll get, I want to ask you a simple question:

Are you "figuring it out" all on your own?

Trying to build your app business piece by piece? Doing all the research by yourself? Do you even have a strategy at all?

Maybe you have a KILLER idea and you're not entirely sure what to do about it. You don't want to "change the world" - you just want a side project that makes you enough money to leave your job.

Guess what? You're not alone.

I know I did this for a long time. And you know what? It worked….for a while. When you're getting started or if you're experiencing "beginner's luck" everything is great.

It was kind of exciting, actually. It wasn't until later that it was more of an ADDICTION than anything else - instead of getting the best information, I could distract myself by chasing MORE information...on a new blog....on a new YouTube channel...

I'd end each day and determine my progress on how I felt instead of the RESULTS I was getting.

Adding Structure Is The Most Important Strategy for Any App Entrepreneur

When you follow your own lead, constantly chasing more information from many sources, you lose focus. When you lose focus, you stagnate. When you stagnate, you lose momentum.

When I first got started with apps, I had a some successes...and a LOT of failures. I expected this, but I made a huge mistake.

Instead of looking at my own actions objectively, I kept searching for NEW options.

I was spending hours and hours searching around on blogs trying to research my way to success. I KNEW there was an answer out there and I was determined to find it.

Then I made one tiny change that exploded my business.

I started creating organized, results oriented action plans to achieve the goals I wanted.

This is the biggest shift you can make in your journey right now...and it's easier than you think.

On top of that, I started sharing these with other people - I started chatting with other app marketers & developers, giving them documented answers to questions and complete step-by-step courses about the most sought after topics.

This. Changed. Everything.


At Bluecloud, We Made a BIG Decision...

We took virtually all the products and premium content, including four of our best source code templates, and packaged it all together.

We realized that so many people like you were having a hard time getting a complete education for everything related to apps. Our mission is to help people live their dream and create successful businesses - by consolidating our products, we'd create more success stories.

Products like:

Complete ASO Course
Reskin Course (Step-by-Step)
Monetization Course
Launching Your App Course

And many more - mini courses that would help ANYONE make strong steps in their app journey.

That's why we created Bluecloud Select - a resource dedicated to the app entrepreneurs focused on building great businesses.

Bluecloud Select is a combination of solutions that are here to do 3 things:

1. Dramatically reduce the time required to find answers
2. Provide you with the information you need to succeed
3. Connect you with people you ordinarily would never have access to

At last count, our LOOSE estimate for total downloads in this group was over 100,000,000. The knowledge they bring to the table is off the charts.


Our members include:

• App marketers who have been featured in the app store dozens of times
• Brick and mortar entreprenuers who have done 9-figure exits and getting into the business
• Moms who have build considerable side income to support their family
• B2B app marketing moguls (over $100K in sales in their first 6 months)
• College students who are doing some INSANE stuff so that they never need a "real" job

And that's just a few. Even better - these people share all the methodology they've used to reach these heights in their business.

But, be prepared, you will be expected to share as well.


As a Bluecloud Select Member, you'll have access to:

1. Weekly Group Coaching From Carter & the Bluecloud Team (Value: $5,000)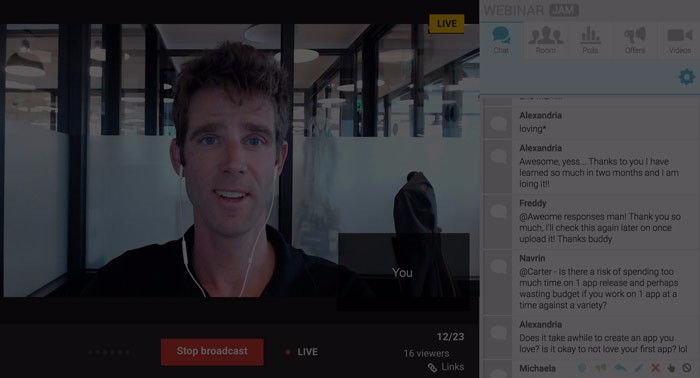 Think of this as "crowdsourced" consulting - you can submit any question you want and the Bluecloud Team will personally respond to it LIVE each Friday. You'll even have access to over 30 previous weeks worth of phone calls.
That means you get a FULL HOUR with Carter every Friday for $12!

2. Organized Video Database (Value: $2,000)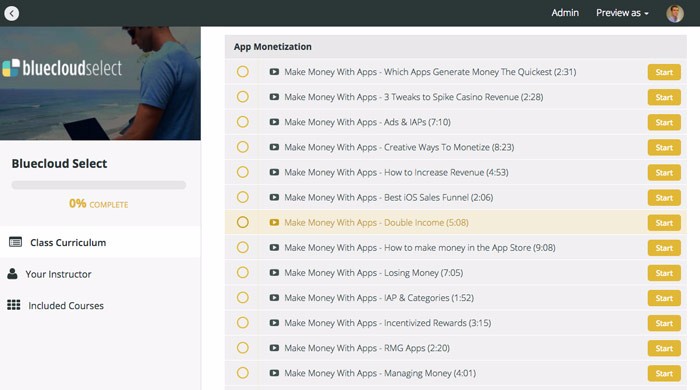 We take the most popular video questions and answers, slice them up and categorize them based on topics for easy reference.

3. Our best starter source codes (Value: $1,000)

You will not find these for individual sale...and we're not planning on it. Bluecloud Select members get hooked up, so get used to seeing exclusive access like this.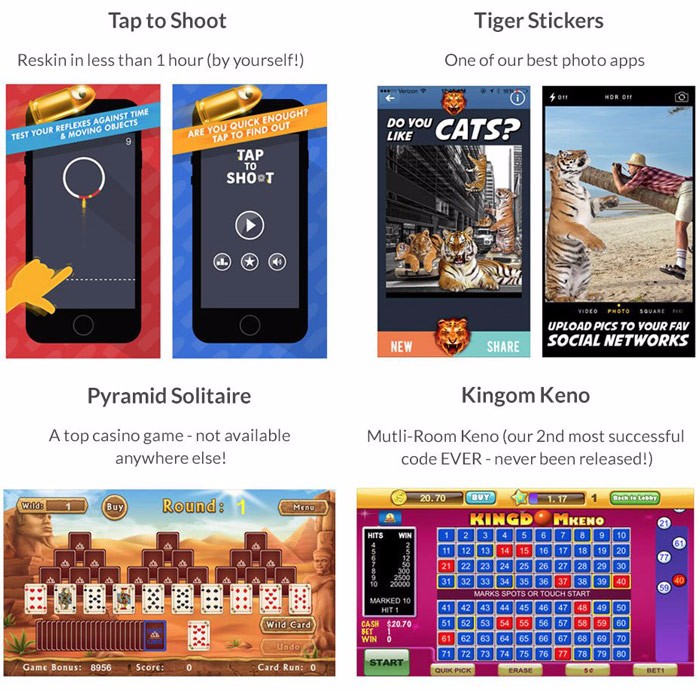 4. Exclusive Bluecloud Mastermind Group (Value: Priceless)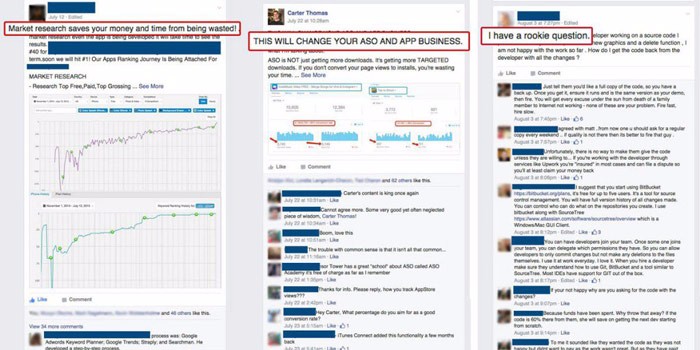 As a Bluecloud Select member, you'll be invited to join the discussion happening in our private mastermind group. Get insider info on the entire app business from entrepreneurs just like you!

5. Accelerator Courses (Value: $500)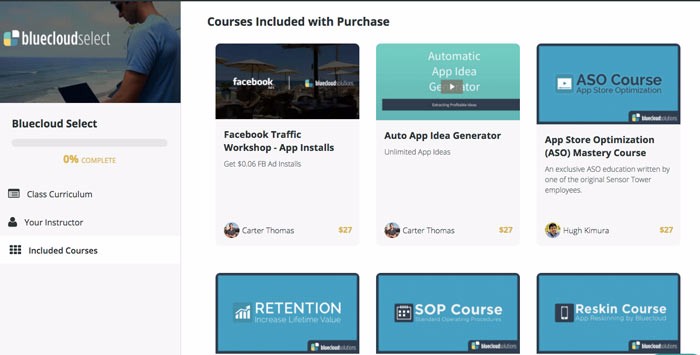 These are step-by-step weekend courses on the most important topics - we boiled down everything you need to know into easy to understand and actionable content. We're always adding to this area so make sure you check back often!

You get:

Facebook Ads Mini Course
Auto App Idea Generator
App Store Optimization Mini Course
Retention Mini Course
Standard Operating Procedures Mini Course
Reskin Course

6. PDF Checklists and Guides (Value: $300)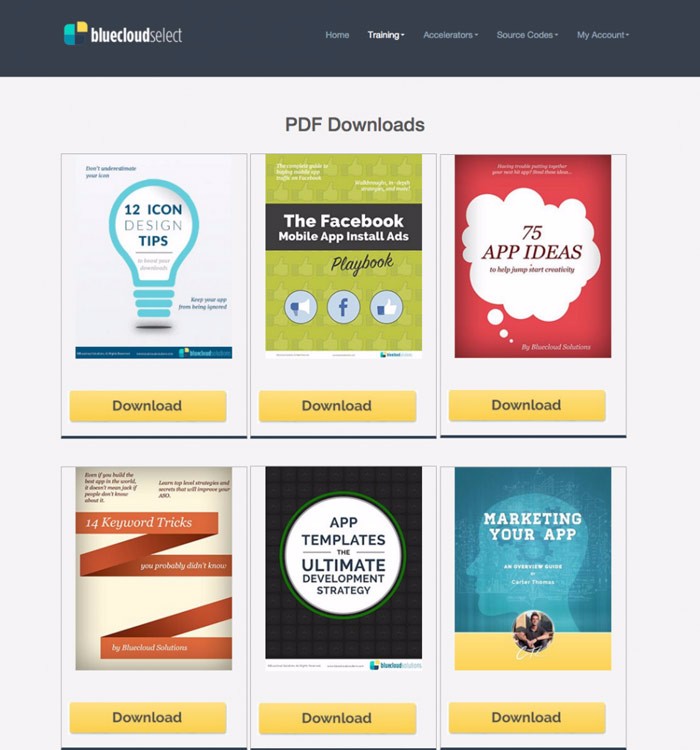 You'll have lifetime access to all our best PDF guides as they relate to the app business - all the way from getting an idea to buying Facebook ads. Download them to any device for easy access!

7. App Reviews (Value: Priceless)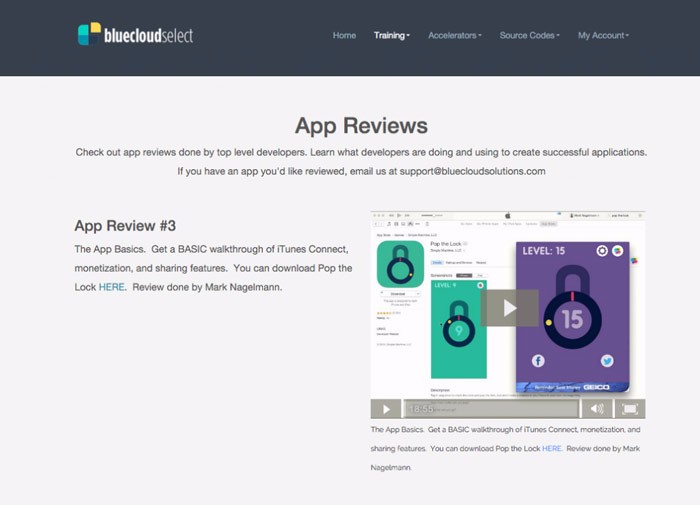 Want us to review your app? No problem. Just send us a note and let us know what you're having issues with and we'll record a walkthrough. We can also do a review of any app on the app store you want to know more about!

7. Up to date information, deals and news (Value: $1,200 and growing as we add more exclusive discounts)

We'll be updating Bluecloud Select with all the insider deals we get offered and giving YOU first look. Any time there's an algorithm change, a hot new opportunity or a tool that can help you, we will be there to deliver.


TOTAL VALUE: $6,800+



"With over a hundred games in the app store and millions of downloads, I know a thing or two about developing apps. You cannot make it in this business on your own. To be successful you need to surround yourself with people that are willing to share information and help you achieve your goals. Bluecloud Select is my goto place to ask questions, learn about the latest app trends, and to give back by sharing my experiences with others. We are one big family here! "

Muoyo OkomeCEO of MegaRock, LLC Game Developers




"Bluecloud Select is the best place to make connections with great developers. When i joined Bluecloud Select, I learned how to improve my business model and reached over 1 million downloads with my apps! Thanks!"

Radu ZiembaCEO, Kappsule Studios




"I've started my app business since 5+ years ago. It was failed during my first year because I've got only a few hundred downloads per day. Fortunately I can step up from $10+ per day to reach over $1,000+ per day mark because I had good connections. My secret source of success is sharing with good friends who has the same mindset and participating in the group of people who working in the same biz. Bluecloud Select is definitely one of my best app community so far. Contribute first, and you'll get it back in some ways from this awesome group. "

Ob OberonFounder & CEO at Dev Design Corner Co. , LTD




"At DeadCool we have released over 200 apps and signed more than 10 publishing deals. We've amassed millions of downloads and the Bluecloud Select community has been instrumental to our success. Bluecloud's information helped me go from indie developer to top 50 overall and featured in the app store. That's why sharing tips, tricks and experiences in this ever changing industry is so important. It's one of the best app communities on the planet!"

Simon CrackCEO of DeadCool Apps

YOU'RE 3 STEPS AWAY
1
Sign up today and get complete access!
Join our crew and we'll send you your first source code and give you access to:
• Our complete video library (200+ videos, organized)
• The private Facebook Group
• Personal question & answer sessions from Carter
• Your app templates
• All Accelerator Courses
• PDFs, Bonuses, App Reviews
• All updates!
2
Login, Join, Connect
Login to our membership portal to get answers to virtually any app related question you've ever had. Connect with all the other app entreprenuers that have already started the conversation.
3
Cutting Edge Information and Fast Answers
Stay in the loop - we'll always be talking about the latest trends, case studies and share what's working right now.

Join the Facebook group and ask questions - you'll be amazed at the response from other community members and from the Bluecloud team!
Your Instructor
Hey! I'm Carter. About 3 years ago I started in the app business...next thing you know I have over 19 Million app downloads and produced over 1,500 apps on multiple platforms. Yowza!
This website (Bluecloud Solutions) has reached over 2 million readers since it's inception and continues to grow each month with hundreds of thousands of new app entrepreneurs. We focus on creating out of the box solutions that make sense - our goal is to help as many people as possible.
I'm really proud of what my team and I have been able to do thus far and will continue to serve every one of you as best I can. Enjoy!
Course Curriculum
Welcome! Start Here
Available in days
days after you enroll
Bluecloud Select Facebook Group
Available in days
days after you enroll
Weekly Live Q&A Webinars
Available in days
days after you enroll
Courses Included with Purchase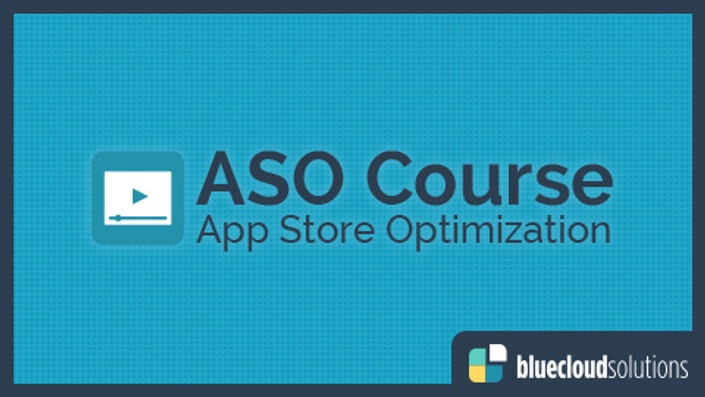 App Store Optimization (ASO) Mastery Course
An exclusive ASO education written by one of the original Sensor Tower employees.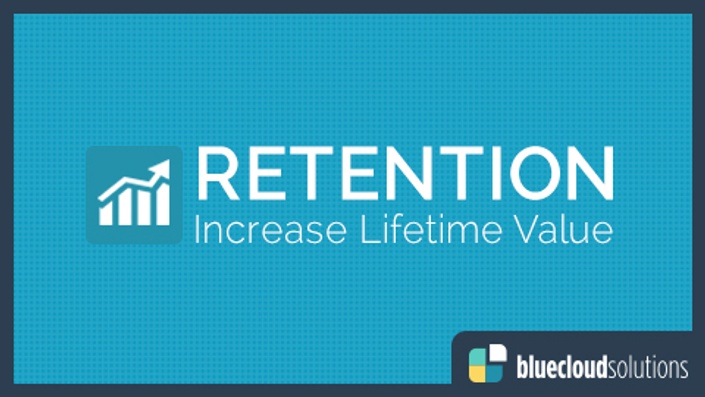 Increase App Retention - Keep Users Longer, Drive Bigger Lifetime Value
Dramatically improve your ROI for pennies on the dollar using these retention strategies!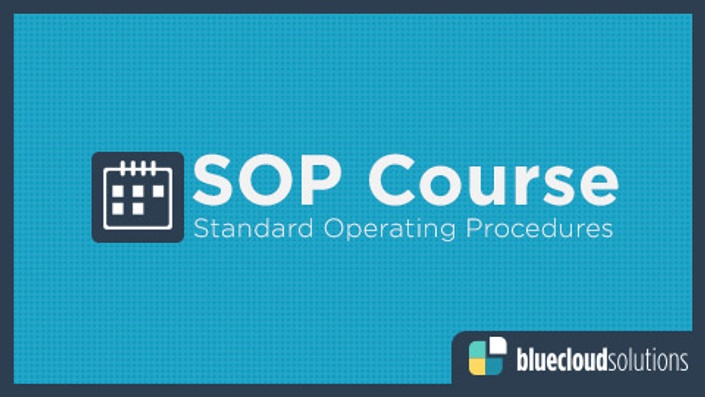 How To Create Standard Operating Procedures - A Step By Step Walkthrough
Scale your business effortlessly with this proven method of creating operating procedures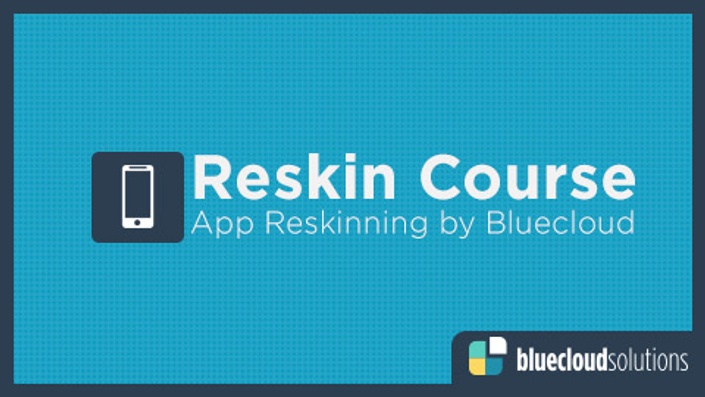 Bluecloud Reskin Course - Introduction To App Reskinning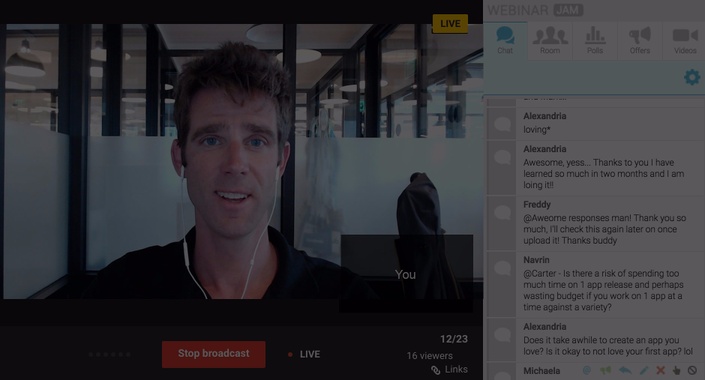 Weekly App Coaching
Original Price: $205
Frequently Asked Questions
When does the course start and finish?
The course starts now and never ends! It is a completely self-paced online course - you decide when you start and when you finish.
How long do I have access to the course?
How does lifetime access sound? After enrolling, you have unlimited access to this course for as long as you like - across any and all devices you own.
What if I am unhappy with the course?
We would never want you to be unhappy! If you are unsatisfied with your purchase, contact us in the first 30 days and we will give you a full refund.
This course is not open for enrollment.